Before you choose the garage material, it's important to decide which material is better for you, whether it's a metal garage or a traditional wood garage.
Metal garage kits have recently become increasingly popular because they are affordable and require low maintenance, while wooden garages are best for custom projects.
In this article, we will address the difference between both materials so that you can make a confident choice for your garage. However, the 5 primary factors are:
Durability
Appearance
Maintenance
Eco-Friendly
Affordability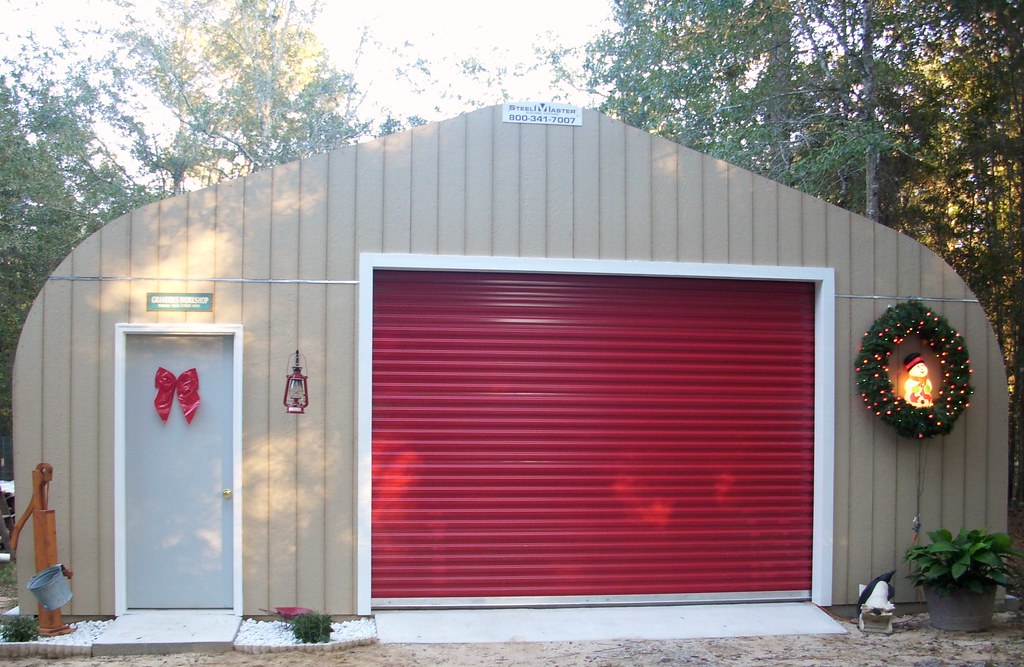 Key Factors That Differentiate Metal Garage From Wood Garage
A garage is an effective and cost-efficient way to add value and additional space to your property. That's why it's essential that you read out all the differences between steel and wood garage before choosing the material.
Below, our experts have put together some key factors to clarify that a metal garage has far more to offer than a traditional-styled wood garage. It will even help you to make a decision.
---
Related Article: An Ultimate  Buying Guide to Steel Garage Kit in Ontario, Canada.
---
Durability
Both materials are attractive and robust, but metal is undoubtedly stronger. However, with preventative cleaning, either type of garage can be kept in good condition for a long time.
Metal Garage: The average life expectancy for a metal garage kit is between 20-30 years. It will need regular maintenance, however, to stay in good shape. This material is resistant to damage like rot, termites, and fire.
However, it may get rusty because of water pooling or condensation, so be conscious of it. To prevent interior condensation damage, make sure that you coat the walls of your metal garage with a unique formulation to make them water-resistant.
Wood Garage: This material is strong, but unfortunately, it has less durability than metal. Though it is an organic option, it's essential to give it a little more care regularly to prevent damage from rotting, pests, mold, or fungus.
You can stain or paint a wooden frame in any color you want, but it needs to be painted or stained every few years. However, it does not require a prep for interior condensation like metal garages.
Appearance
Today, the garage's appearance matters a lot because the garage style will complement your property, whether it's for housing or commercial purposes.
However, it all depends on your choice, but we always recommend our customers pick a metal garage or steel garage kit because they have more contemporary and utilitarian looks.
Steel Garage Kit:  Steel garage kits come in various styles and colors, with numerous customization options and accessories. Customers can collaborate with us to select a design that meets their needs and preferences, resulting in a customized steel building and personalized two-car garage or other metal building. They are often handy in terms of affordability and durability. Even it creates room for storage, business goods, and bulk supplies.
Traditional Wood Garage: Choosing a customized wood garage will be costly compared to a steel garage. Though they also become functional to create extra space, they help to enhance a residential property's attractiveness.
Maintenance
Both materials require care to enhance their durability for a more extended period. However, there are specific standards that need to be taken during the process of maintenance.
Metal or Steel: If you have a steel garage kit, then its components won't bend, split, twist, swell, shrink or decay like a wood garage. Even steel components will not have to be replaced or repaired because they are rigid as compared to wood.
Wood: However, if you choose a wood garage for your property, it requires daily maintenance to prevent rotting, fungus, or insect infestation. Also, It needs to be painted or stained every few years.
Eco-Friendly
When it comes to the environment, both metal and wood garages are environment-friendly, but metal garages have an advantage when it comes to being eco-friendly.
No matter what options you choose, make every effort to recycle materials and reduce the amount of waste generated during the construction process.
Metal Garage Kits: Metal garage kits have a lot of advantages when it comes to environmental considerations. Because of high sustainability, they also last for many years, so there is less need to replace them.
Metals are great conductors of heat and electricity, and they heat up quickly; that's why they are suitable for energy efficiency. This adjustment can make the metal garage kit more comfortable if you need a workspace.
Wood Garage: Since this material is biodegradable and made up of organic materials, it doesn't release any toxins — they are eco-friendly. Wood garages are much easier to insulate so they can use less energy for heating and cooling. They stay warmer in the winter and cooler in the summer.
Affordability
A common misconception about metal garages is that they are expensive compared to traditional wood garages. The truth is that metal garages offer the best value and options within any budget range. Also, it cuts down labor costs and even reduces material wastage.
In contrast, wooden garages require extensive preparation, construction, or maintenance work.
You may be thinking of adding or reinstalling a garage to your property, whether it's a metal garage kit, prefab steel building, carport, or warehouse. Then you are in the right place at VOD Steel Building, you can find unlimited options.
---
Related Article: An Ultimate Guide to Prefab Steel Building Kits & Garage.
---
Metal vs. Wood Garages; What Individuals Prefer?
In the end, metal and steel garage kits come out on top as a winner because they are more sustainable, attractive, eco-friendly, and reasonable in terms of cost.
Customers today are more inclined toward building a metal garage because it allows them to have additional space for personal vehicles or to set up a commercial workshop. That's why it's a highly recommended product at VOD Steel Buildings.
Get Quote For Your Next Building Garage Project
At this moment, you may know which option is suitable for your next steel building garage project, whether metal or wood. So, get the quote today from VOD Steel Buildings by calling us at 1 (844) 609-0505.